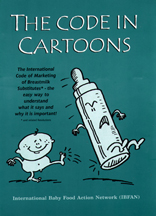 Category: Store » Shop departments » ICDC materials

This booklet is filled with cartoons and accompanying text which explain simply what the International Code of Marketing of Breastmilk Substitutes (and related Resolutions) says and why it is important.
12 pages.
Published 2006.
UK postage and packing included.
Additional shipping for international orders will be calculated at the checkout based on your total order.