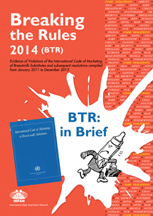 Category: Store » Shop departments » ICDC materials
Breaking the Rules 2014: In Brief
£5.00

Breaking the Rules 2014: In Brief is a summary version of the global monitoring report produced by the International Code Documentation Centre (ICDC).
It presents the latest marketing trends used by baby food companies to push their products. It also explains how this tactics violate the marketing requirements companies should be following.
You can download BTR 2014: In Brief as a free pdf.
We have a limited number of printed copies available, which can be ordered below.
The full 240-page report profiles the leading 27 baby food and feeding bottle companies and is available from ICDC.
BTR 2014: In Brief (40-page report).
UK postage and packing included.
Additional shipping for international orders will be calculated at the checkout based on your total order.